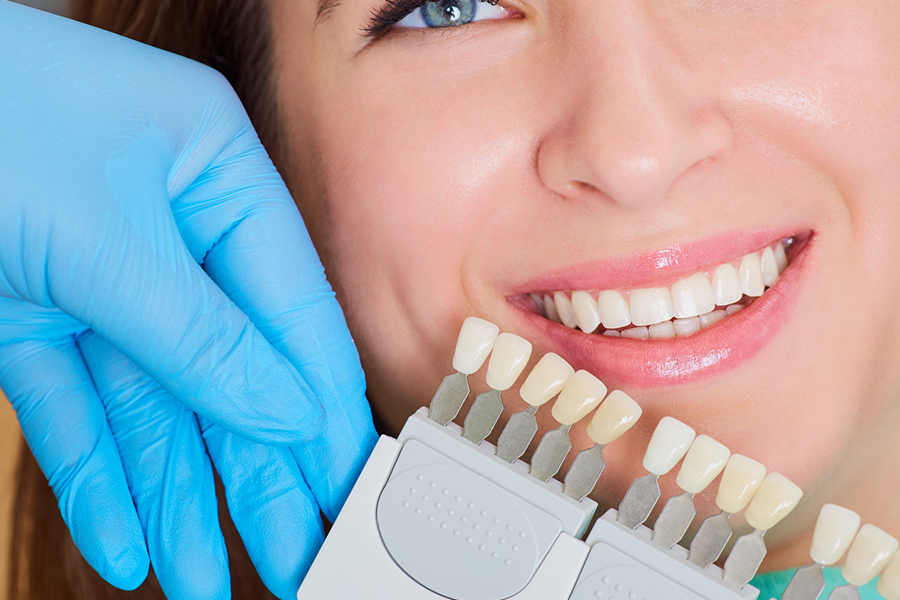 Teeth Whitening
Over time many of us experience tooth staining from foods, drinks and smoking.Teeth whitening safely and effectively removes this staining to brighten your teeth and enhance your smile. At Bicester Dental Care we offer a number of tooth whitening options.

As with all treatments, you will first attend a consultation with your dentist for an up to date
assessment of your oral health and to discuss your available options in detail. At this
appointment you will be given plenty of time to ask questions, but we encourage you to
contact us at any time if you have concerns. Should you decide to proceed, a treatment plan outlining the time schedule and costs will be provided.
Zoom!
If you choose Zoom! professional teeth whitening treatment it starts with your dentist checking your current shade, so you can both see the dramatic difference after your treatment is
complete. Your dentist will prep your mouth for whitening and applies a layer of advanced whitening gel to your teeth. To speed up the whitening process, they'll shine our Zoom! bue LED lamp onto your teeth. This accelerates the whitening, plus the lamp's variable settings ensure you'll get a comfortable experience. This process is repeated three times and is completed in just over 1 hour!
Once you've reached your desired shade, your dentist will apply our post-treatment gel to help protect enamel and reduce sensitivity.
Before you leave the practice, you will receive customised whitening trays and a take home whitening kit, which is included in the price of your treatment. This way, you can top-up the brightness of your smile whenever you want to.
Home Whitening
Your dentist will first take an impression of your teeth. This is then used to produce a
custom-made tray to the exact size and shape of your teeth. Your dentist will ensure the tray fits closely to your teeth and will demonstrate how to carry out the treatment at home.
During your treatment the tray is filled with whitening agent – you will be advised to wear the tray for a few hours or overnight depending on the strength of agent used. Within a few days your teeth will become noticeably brighter but it may take up to three weeks to achieve the
full effect.
It is important to note that tooth coloured fillings, caps, crowns and replacement teeth are not affected by the whitening agent and may alter in appearance as the surrounding teeth become brighter.